---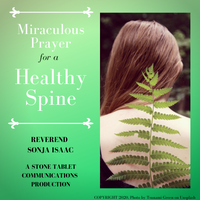 In Rev. Sonja Isaac's audio recording 'Miraculous Prayer for a Healthy Spine' she uses several tools in her spiritual warfare arsenal to gently bring your spine back to full health.
Guided Visualization – for without a vision the people perish. Rev. Sonja helps you to see in your mind's eye the miraculous healing that is taking place.
 Prayer Music – 'It's Time to Pray' is the title of the music Rev. Sonja has written herself. This Holy Spirit inspired selection creates an atmosphere of peace and calm, ideal for the working of the Holy Spirit.
Speaking in Tongues – Rev. Sonja uses her beautiful gift of Tongues to allow the Holy Spirit to directly address your particular situation. While she prays in Tongues, you are invited to pray along with her in your own home language and with your own specific requests.
The Agreement Frequency – Listen carefully as Rev. Sonja explains how to enter into an 'Agreement Frequency'. This is the very moment that transformations materialize. "If two of you shall agree on earth as touching anything that they shall ask, it shall be done for them of my Father which is in heaven." Jesus Christ.
Do you have a loved one who suffers from back problems or spinal injury? Rev. Sonja also explains how to stand in on their behalf to bring them their healing.
So why wait? Why put up with the pain and frustration for another moment? Find a nice comfortable place to sit or lie down and download and listen to your 'Miraculous Prayer for a Healthy Spine' today.